Dawn Fry Photo has the perfect portrait package for you, starting at only $100!
For your senior session, you can choose from the following locations and settings:
Urban – let's head downtown for a session on 6th street or on SoCo for some fun, fashionable and edgy images
Country – have a favorite park or piece of land you love? Let's go! If you don't have a fav, I can suggest the perfect place. Great for more natural and beauty images.
Water – a hit with the ladies, water sessions are an awesome way to get something totally different and unique for your senior pictures! Bring a towel because you will get wet! (Water sessions only available with an EPIC session package)
Urban Cowboy – small town storefronts and railroad tracks? I know just the place!
School – into sports or extracurricular activity? Let's shoot you in your element!
Safari Style – very popular! Can't decide where you want to go?  Load up in the car and we'll drive around and seek out new and fun locations as we drive. (available only with the "Epic" package)
Now choose your Session Package –
"Short and Sweet" – $100 (plus tax)

1 location that best suits your personality, 1 hour of shooting time
up to 2 outfits
10-15 perfectly enhanced, retouched images presented for ordering
"Awesome" – $150 (plus tax)
2 locations that best suit your personality, 2 hours shooting time
3-4 wardrobe changes
25-35 perfectly enhanced, retouched images presented for ordering
"Epic" – $300 (plus tax)
3 locations that best suit your personality, 3-4 hours (1 day shoot) OR 2, 2 hour shoots on different days (depending on time of year and locations selected)
unlimited wardrobe changes
35-50+ perfectly enhanced, retouched images presented for ordering
Optional Add Ons with your package (for each day of shooting):
Hair and Makeup – $150
Makeup only – $75
How do we BOOK IT?
Contact Dawn either via EMAIL (dawn @ dawnfryphoto . com) or phone (512.203.6261) to set up your appointment.  Pre-session consultations are highly recommended to discuss the kind of session you are interested in so that we can design your perfect senior portrait experience. Let's get together for coffee and talk about YOU! We can discuss locations, wardrobe, hopes and dreams, or whatever you need!
How do we ORDER?
Dawn Fry Photo is thrilled to announce that I am now offering In-Person Viewing and Ordering Sessions for all of my Senior Photo Sessions!! Approximately 2 weeks after your session, we will schedule a time to view your images and place your order.  Print Collections, Digital Collections, and a la carte purchases are available.  Most clients can expect to spend $600-$1500 on their product purchase. Digital files on DVD are available with our top collections.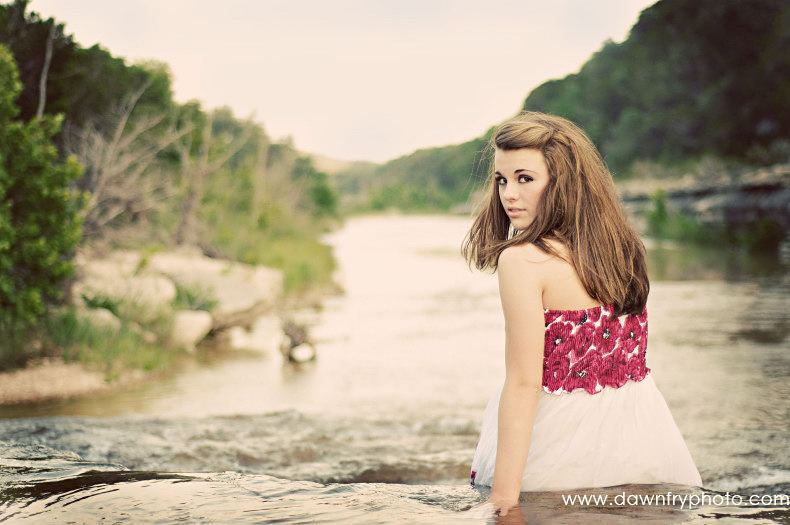 Are you ready? Call, Text or Email today!
Dawn Fry Photo | 512.203.6261